Introduction of Fluorocarbon coating finish
Views:1 Author:JIA HUA ALUMINIUM CO., LTD Publish Time: 2020-07-13 Origin:Site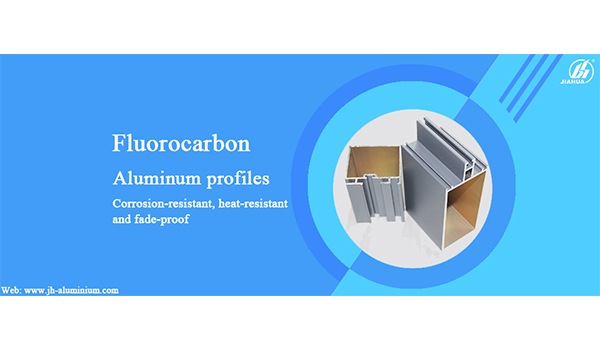 Aluminum is all around us. Aluminum extrusion profiles without surface finish looks very simple. And it's easy to be corrosion in the wet environment. In order to improve the decoration effect and the lifetime, the aluminum profiles after ageing will be sent to do the surface finish. The common surface finish for aluminum profiles is Anodizing, Powder coating, Wooden Grain finish and Electrophoresis. Today we will introduce you another surface finish which is call Fluorocarbon coating finish.
There are 60% of outer facade decoration will use the coating. So coating application in construction a lot. Fluorocarbon coating also is one of Electrostatic spraying. And the other is powder coating.
The color of the fluorocarbon coating is uniform, the excellent quality fluorocarbon coating has a metallic luster, a bright color, and a three-dimensional sense. Even if the building is expanded after many years, the old and new colors can still fit perfectly. And fluorocarbon have good fading resistance, frost resistance, corrosion resistance to atmospheric pollution (acid rain, etc.), wear resistance, weather resistance, aging resistance, ultraviolet resistance, crack resistance, and the ability to withstand harsh weather environments. The powder coating is afraid of the sun's ultraviolet radiation, and the fading resistance is relatively weak.
According to its characterize, we usually us fluorocarbon for outdoor and inside is powder coating finish. Aluminum panel, Exterior wall aluminum grille, and Curtain wall pressure plate usually will do the fluorocarbon coating finish. Or it will easy to get the fade and crack. For the indoor curtain wall profiles will use powder coating. Such as mullion aluminum curtain wall profiles, curtain wall beam.
The processing of fluorocarbon coating
The fluorocarbon spraying process mostly uses multi-layer spraying. The types of fluorocarbon spraying coatings are two coats (primer and topcoat), three coats (primer, topcoat and varnish), and four coats (primer, barrier paint, surface) Paint and varnish), strictly control the process from the pre-treatment process, spraying process to curing process to ensure the surface coating quality of aluminum profiles.
Pre-processing flow:
Degreasing and decontamination of aluminum materials → water washing → alkaline washing (degreasing) → water washing → acid washing → water washing → chromization → water washing → pure water washing
Spraying process:
Spray primer → top coat → gloss paint → baking (180-250℃) → quality inspection
Types of fluorocarbon paint spray coating
Two coatings and one baking: pre-treatment → chrome treatment → drying → primer coating → topcoat coating → baking → packaging
Three coatings and one baking: pre-treatment → chrome treatment → drying → primer coating → metal topcoat coating → varnish coating → baking → packaging
Four coatings and two baking: pretreatment → chrome treatment → drying → primer coating → barrier paint → baking → topcoat coating (metal topcoat) → varnish coating → baking → packaging
The purpose of chromization: to form a fine and stable chromization film on the surface of aluminum material. This film layer has a certain abrasion resistance, corrosion resistance and good adsorption capacity, so that the coating can improve its adhesion during painting.