Jiahua company's annual party was successfully concluded
Views:3 Author:Jia Hua Aluminium Co., Ltd Publish Time: 2020-01-15 Origin:Site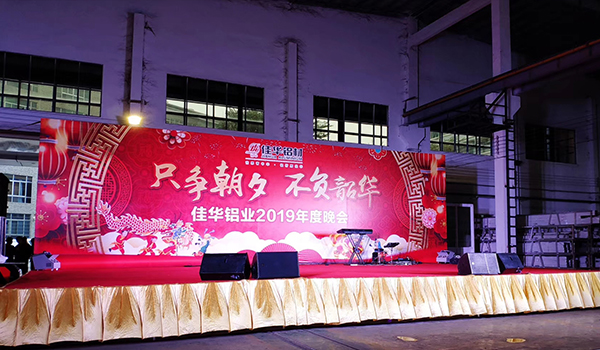 It's mean the 2020 is here when the bells ring of 2019. We got a lots in the 2019. In the 19 years, every Jiahua person has paid their efforts and contributed to Jiahua. Here, Jiahua is very grateful to everyone for their contributions.
Jia Hua made many changes for the better future. Such as purchase the advance equipment, two new aluminum extrusion machine, one aluminum profiles sand blasting machine, etc. We believe that Jia Hua will getting better and better.
Last night, the annual party is successful to be hold in JiaHua factory. Everyone is here to celebrate and eat the dinner. What a happy moment! The show on stage brought us a lot of joy. Jia Hua always pay more attention to the company culture---people oriented and Focus on quality. We are not just a big extrusion factory who also the big family to help the people in Jia Hua get happiness.
Jia Hua is here wish every customer live a happy life and everything goes well. Happy new year to you. If you have any new inquiry of aluminum window profiles or curtain wall or construction project, please let me know it.