New Trending Of Aluminum Extrusion Profiles
Views:3 Author:Jia Hua Aluminium Co., Ltd Publish Time: 2020-04-18 Origin:Site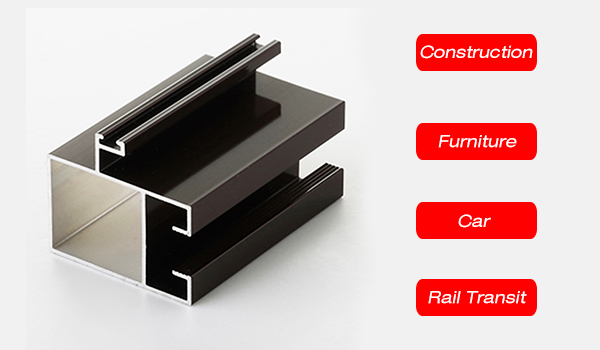 With the government's vigorous advocacy for green and energy-efficient buildings, consumers are increasingly demanding environmental protection for household products, making high-performance door and window aluminum profiles and all-aluminum household items more and more important in the market application; in addition, the lightweight promotion of automobiles The huge demand for aluminum profiles created in the development of rail transportation and other aspects will also bring stronger development potential to the market demand of the aluminum profile industry.
1. The Green Construction
Aluminum alloy profiles For the construction industry, the first thing that comes to mind is aluminum profiles for doors and windows. More and more high performance windows systems are developed to meet the different needs of client. The second, it's the Aluminum formwok. This is an efficient tool for making high rise building and villa complexes.
2. Aluminum furniture
Aluminum furniture is become the trending in the furniture industry. This is due to the advancement of technology and the enhancement of consumers' environmental awareness. All aluminium furniture is made by the high quality aluminum alloy profiles in a high standard. It has no any binders and no materials containing formaldehyde are used, which meets the needs of people pursuing a healthy life. The mature industrial chain provides unlimited possibilities for the development of aluminum furniture.
3. Car lightweight
Aluminum alloy has developed rapidly since it entered the field of the automobile industry, and its application field has gradually expanded. Since the density of aluminum is only about 1/3 of steel, and its performance can meet the requirements of automotive materials after alloying, the use of aluminum in the automotive field can greatly reduce the weight of the car, reduce fuel consumption, and then achieve the effect of energy saving.
4. The development of rail transit
High-speed rail cars in the field of rail transportation have a greater demand for high-performance aluminum alloy materials. With the improvement of the high-speed rail network and the increase in travel demand, the demand for high-speed rail motor vehicles has accelerated, and the share of investment in rolling stock purchases has steadily increased. Under the "eight vertical and eight horizontal" plan, the high-speed rail network will be further improved. In the future, the purchase of high-speed rail motor vehicles will grow steadily, creating more market demand for the aluminum profile industry.