The difference between vertical spray and horizontal spray
Views:1 Author:Jia Hua Aluminium Co., Ltd Publish Time: 2019-09-25 Origin:Site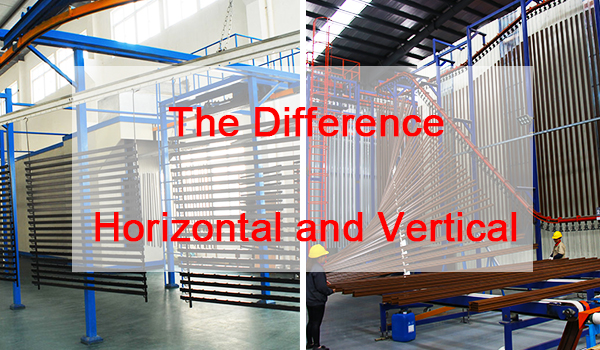 There are two types of spray powder machines. One is vertical spraying machine. The other is Horizontal spraying machine. Vertical spray equipment and horizontal equipment are the two main types of machines for producing sprayed aluminum profiles. But what is the different of these two machines?

Here is the comparison of vertical and horizontal.
1.The way of hanging
Horizontal: The aluminum profile is placed flat on the conveyor chain. It is fixed with a hook and the decoration is facing outward.
Vertical: The aluminum profile is suspended vertically on the conveyor chain. Holes need to be punched in the profile before hanging.
The difference between vertical spray and horizontal spray.
Conveyor chain of horizontal is the normal chain. But the Vertical is the Closed rail suspension chain.
1. Annual Capacity
Horizontal: 800-4000 tons. Vertical: 12000-30000 tons.
2. Floor area
The Horizontal equipment (without the pretreatment) is: 1200m². And the vertical with pretreatment is 1200m².
3. Production consumption
Horizontal
Degreaser
6kg
Chromating agent
4kg
Water consumption
10t
Powder consumption
45kg
Fuel consumption
80kg
Power consumption
180KW·H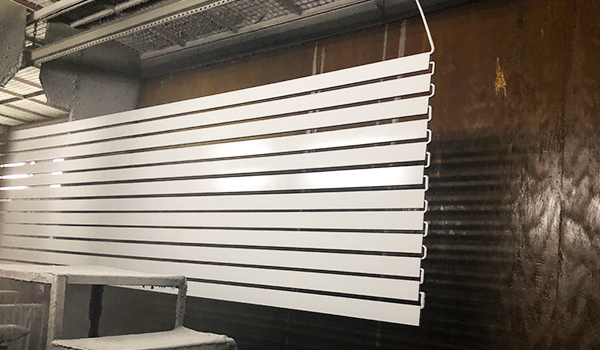 Vertical
Degreaser
3kg
Chromating agent
3kg
Water consumption
4t
Powder consumption
38-40kg
Fuel consumption
80kg
Power consumption
50-60KW·h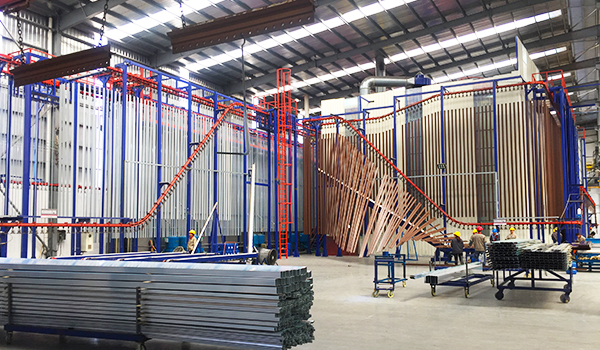 The advantages of Horizontal Equipment

a. The transportation chain has a simple structure and convenient maintenance;
b. The hanger pitch can be flexibly adjusted according to the length of the aluminum profile
Shortcoming:
a). Large area and low output per unit area;
b). Curing furnace length, high energy consumption per unit of output;
c). It is difficult to continuously produce lines with the pre-treatment group, and there are more production workers required;
d). Aluminum film thickness difference is large, generally up to ± 20μm;
e). Higher operating costs due to higher energy consumption, chemical consumption, powder consumption, and labor consumption
The advantages of Vertical production line
1. Pre-treatment - dusting - solidification is integrated, high degree of automation, in the case of the same chain speed and the same footprint, the output is 4-5 times of the horizontal line;
2. The pretreatment has good liquid drop ability, less chemical and water consumption;
3. In the spray booth, the aluminum profile can be rotated by 4×90°
Disadvantages
1). The initial investment of the equipment is large;
2). Require better management
Please follow our website, if you want to know more informtion about the industry of aluminum profiles. Also, you can read this article<http://www.jh-aluminium.com/The-processing-of-powder-coating-id3349164.html> to know more about powder coating aluminum profiles.
Contact us now. We are waitting for your inquiry.
Guangdong Jia Hua Aluminium Co., Ltd, Contact:Fannie Wu, Email: fanny@jh-aluminium.com