The different material for making the sun room
Views:2 Author:Jia Hua Aluminium Co., Ltd Publish Time: 2020-04-11 Origin:Site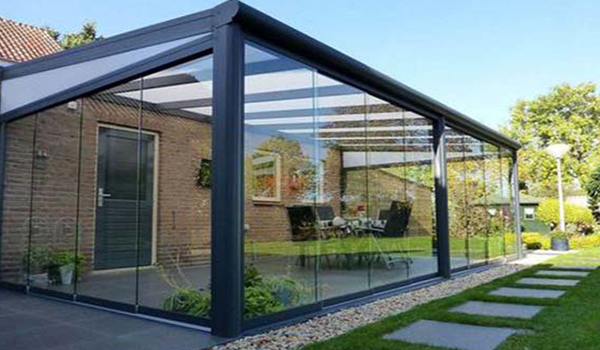 The main material of the sun room: Steel Structure, Aluminum Structure and broken break aluminum structure. But due to the price of the aluminum structure and broken break aluminum structure is too expensive, the client usually will use the steel for making the simple structure. So Do you know the different of Steel structure, aluminum structure, and Broken bridge structure. Jia Hua is here to show you the different from Safety, Daylighting, Soundproof, Waterproof, Energy saving, and Cost.
1. Safety
Normal: Steel and aluminum all can reach the safety requirement in Load-bearing.
But the big size sun room usually use the steel for the structure. Steel is better than aluminum in load-bearing.
2. Daylighting coefficient comparison
Theoretically, the main frame profile of the sun room has little effect on daylighting. Whether it is a steel structure, aluminum alloy or broken bridge aluminum, the sun room can be built into a glass roof, and the light level is good. When choosing the roof material of the sun room, if it is built as a color steel plate roof and tile roof, the lighting will be reduced. The owner who likes to enjoy the sun, it is recommended to choose the glass roof sun room.
3. Soundproof
If the sound insulation performance is arranged from high to low, Broken bridge aluminum profiles > Aluminum > Steel. Due the special structure of broken bridge aluminum profiles and the EPDM rubber, it have good performance on the soundproof.
4. Waterproof
Steel after raining, it's easy to get the phenomenon of rusting and rain leakage is only a matter of time. But the aluminum after the surface treatment will have good performance of waterproof. Usually it will have 10 year guarantee.

5. Energy Saving
Steel Structure is used for building a simple frame which have not heat insulation. But the aluminum is better than steel which can have high heat insulation performance. Especial the broken bridge aluminum profiles. The aluminum inner cavity of the heat-insulating broken bridge is filled with heat-insulating materials to play an energy-saving effect, keeping the sun room warm in winter and cool in summer and keeping constant temperature.

6. Cost and surface
You may think the steel will be cheaper than aluminum. But the maintain fee of steel is expensive than aluminum. And the surface, you will find that there are many surface treatment of aluminum profiles. Such as, anodizing, powder coating, wooden grain. Etc.
Jia Hua have own sun room system design. Please contact us to get the catalog. We are willing to give the suggestion of making the sun room.