The usage of aluminum profiles on worktable
Views:2 Author:Jia Hua Aluminium Co., Ltd Publish Time: 2020-05-02 Origin:Site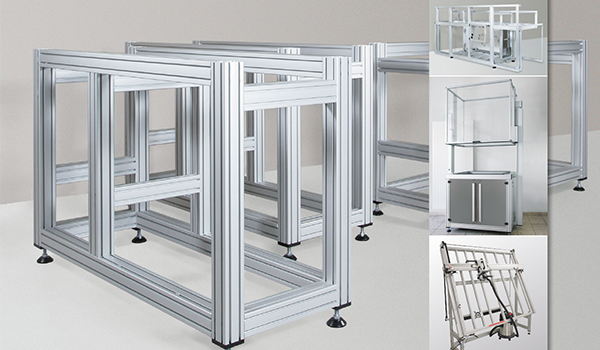 Worktable is widely us in many kinds of production workshop. There are many kinds of worktable. Such as aluminum worktable, Automatic transfer machine, and Material turnover car etc. These worktable system is amde by the industrial aluminum profiles. It's necessary for the production on worktable.
So what exact use of aluminum profiles in worktable? Read this article in 5 minutes will help you know the industrial aluminum extrusion profiles use for worktable.
According to different functions, it can be divided into many types of worktable. The most common is Anti-static workbench, aluminum profile workbench, fitter workbench, assembly line workbench, etc. Usually, it is made with aluminum frame profile. And the above is shafted with wood panel, Belt line, wire rod, fluent strip or roller etc.
For example, the automatic transfer machine. The Products on the assembly line will be transmitted through a freely movable platform. Save manpower consumption. It can be divide into 2 type. One is Semi-automatic. And the other is fully automated. The semi-automated transmission equipment needs to be tracked manually. For fully automated, only the program needs to be set in the center console, and the entire process can be operated by the control panel. The main components are still aluminum profiles, which are equipped with fluent strips, and you do n't have to worry about putting the items on. This saves a lot of labor and time, and greatly improves production efficiency.
The weight of aluminum profiles is light than other material. And the surface after anodizing is no need the painting any more. The surface after anodizing can Has the ability to resist corrosion and high temperature which is suitable for many harsh working environment No welding when production which only need to assemble with the accessories. Based on the various advantages of aluminum profiles, aluminum profiles have more applications on the console system. Since the needs of each industry are different, users can add a variety of different additional according to their own product needs Function, expand the application space of aluminum profiles to infinity.
The industrial aluminum frame profiles on the market common is v slot aluminum profiles and t slot aluminum profiles. Jia Hua can provide many size and shape for you to choose. Please contact us for further information.