What industrial aluminum profiles use for?
Views:1 Author:Jia Hua Aluminium Co., Ltd Publish Time: 2020-01-11 Origin:Site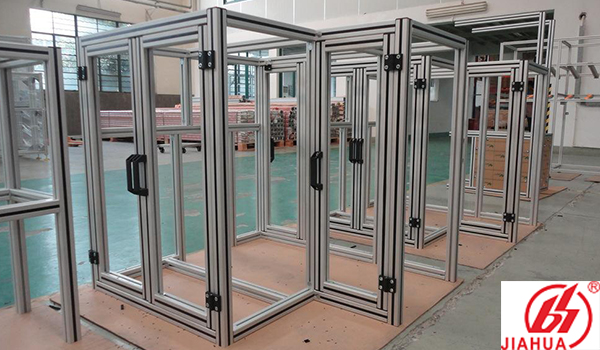 As you see that the aluminum profiles in many kinds of industry nowadays. The common use is for the windows and curtain wall. But do you know How is the aluminum profiles use in the industrial industry?
For the Automative production line:
Aluminum industrial profiles will be used for the bracket of the Automative lines. Such as the Conveyor line bracket, shuttle rail.
For the Electronic industry:
The worktable of Electronic is make by the aluminum industrial frame profiles and aluminum profiles panel.
For the Car industry
Aluminum profiles will be the accessories of the car. Such as the heat sink of the engine
For outdoor advertising and stage settings:
Aluminum profiles can be used for making the frame. Because the aluminum frame is used to build the frame, there is no need for any welding, just tighten the accessories with screws. Can save a lot of labor costs. It can also be used multiple times
We will take the industrial frame aluminum profiles as an example to show you how the profiles use in the industry.
There are many kinds of aluminum frame. Most of them are have the surface finish which look more colorful and Beautiful. What's more, it is easy for clear. All you just need to clear it with rag. The aluminum frame is not need to welding which is assemble by the accessories and screws. What's more, the frame can be assemble at the scene which is easy for carry. The most important is the aluminum frame has a higher weighing capacity.
The length of aluminum industrial profiles usually is 6.02m. But it will have many size and shape due the different needs. You can design it base on your requirement. Jia hua is allows the client to send their design. And we will help you to make come true. You will find Jia Hua has the mould workshop. So we can open the mould base on your design by ourselves.
The main type of aluminum frame:
Worktable, Clean sheds, shields, fences, etc. The most basic accessories needed to assemble these frames are bolts, elastic fasteners, end covers, seals. Of course, in addition to bolts, the profile frame connection method often has built-in connectors. Corner pieces, etc.
Aluminium industrial profiles have a wide range of applications. If you want to know what else is useful, please contact us. Follow us now to know more about aluminum profiles. If you have any inquiry, please let us know.